Project overview
Development of a device for monitoring of direct current (DC) powered equipment.
Part of Energomonitor, an IoT system for online monitoring of utility consumption.
Three different versions developed from February 2017 to January 2018.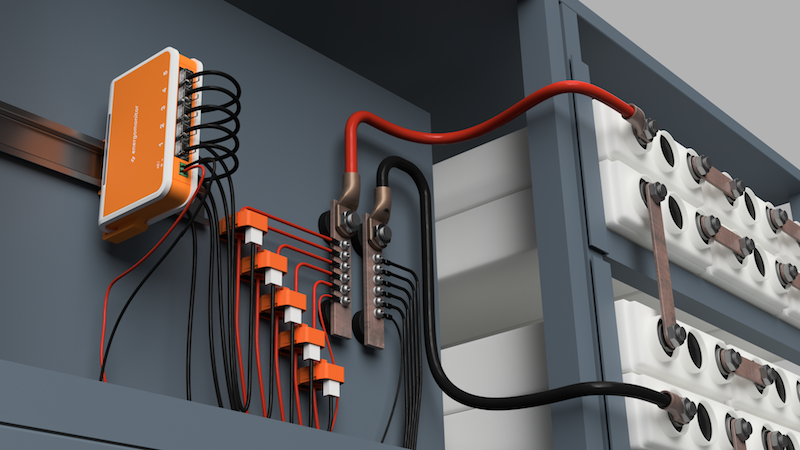 Problem: Why direct current monitoring?
Energomonitor started as a system for home and end-user usage. As most of the equipment at home works on alternating current, monitoring it was enough and Energomonitor's Powersense took care of this need. As time went by, Energomonitor got more industrial and business clients, which brought demand for direct current real-time monitoring. The typical scenarios were:
Photovoltaics — monitoring of DC output and individual circuits
Data Centers — UPS system battery health and power usage monitoring
Battery installations — monitoring of charging and discharging
Base Transceiver Stations (BTSs) — monitoring of radio equipment
Key decisions
We decided to do the development process iteratively because we needed a working prototype as soon as possible.
The device will be part of Energomonitor ecosystem and will use the Energomonitor application for data collection, storage and visualisation.
The visual design of the sensor won't be a priority. For the most of the time, the device will be locked and hidden.
We will use third-party DC transducers.
Key development steps
First generation — prototype
We made few prototypes by modifying of one of our existing devices in February 2017. We modified its on/off input to an analogue input.
The prototype contained only one Hall effect sensor and wasn't able to measure input power, only direct current. A quick approach, done in 14 days, but the customer was satisfied.
According to the client's feedback, our device was accurate to within 2% — this compared with other devices on the market that are 100× more expensive.
Second generation
A new generation of the device, which we started to develop in June 2017, had a few significant improvements.
The device already had up to 5 removable transducers for measuring of DC up to 50 A including voltage, so computing the equipment's input power became possible. The user could calibrate the transducers. The device finally got a respectable case, could be attached to a DIN rail, and used power supplied from the monitored rail. Tests showed < 2% inaccuracy.
Third generation
After more feedback from real users, we developed a third generation of the device, finished in January 2018. We added features we knew that would make the device more user-friendly.
We started to offer transducers with a range of metering up to 50 A, 100 A and 400 A, with the possibility to add other ranges in the future. The probes have a digital interface now and are interchangeable, which allows for the combination of various current ranges within one sensor.
Deployment
Right now Powersense DC is being sold as the part of the Energomonitor system.
The sensor monitors power consumption of DC powered equipment using up to 5 direct current transducers.
The transducers are available in standard diameters including 8.5 mm, 21 mm and 40 mm, however other diameters are available upon request.
Power is calculated as a product of measured current and voltage. The measured voltage is the same for all of five current transducer sensors.
Space-efficient and simple installation without the need to disrupt the monitored circuits.
The power supply is protected from incorrect installation. If installed at the wrong polarity, the unit is protected from shorting out.
Values are measured every 5 seconds.
The range of the radio link is up to 100 m, depending on wall shielding and electromagnetic interference.
Data visualisation is provided by the Energomonitor application, with a possibility of export through an API.